Ever since Ikea came to Colorado I've had a bit of an obsession with their mod furniture given the alternatives here... you either get American Furniture on the cheap or you're stuck with Ethan Allan price tags. For those who like a more modern vibe or sleeker look, well you were out of luck. Needless to say, many a weekend are spent in the 'rat maze' at Ikea while we've been re-decorating the house. My favorite part about Ikea furniture is that it's versatile and thanks to my contractor hubby it can be sliced and diced and custom configured into anything that I want it to be. It's kind of a DIY'er dream.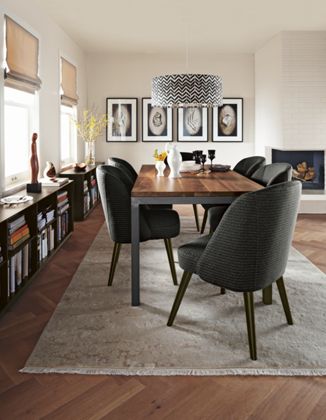 I was flipping through one of my many house decorating magazines and stumbled on this photo and fell in love with the look (which would later become a big inspiration for our #operationredecoration) and mostly fell head over heels for the huge Galbraith & Paul
drum shade pendant
light! What I did NOT fall in love with was the $500 price tag... So I went on a mission to create my own. I wanted a large (20+ inch wide) drum shade that was short to hang in our tall entry way. Fabric was first, I almost went with a plain black and white chevron until I magically found
this herringbone
batik which couldn't have been any more perfect. And much to my surprise I was able to find a clearance Rutbo lamp at IKEA which I hacked up to make the guts of the lamp rather than purchasing a bunch of lamp making parts and rings.
My husband took my Ikea find apart and removed a few sections of height to give me the short wide drum look I wanted. A few quick runs through the sewing machine and some hot glue and voila. $22 Ikea hacked drum pendant. It really couldn't look any more identical and I love it!
Unfortunately Ikea apparently doesn't make the pendant Rutbo anymore... but they have several other paper type lamps that are cheap that you could modify to create a similar look.
Happy DIY'ing yall!
Read more!