Things that I could not live without now that he is here! My Mommy recommendations for other moms!
- JJ Cole Bundle Me
. It's winter here in Colorado and instead of having to bundle the baby up in layers and layers of clothing, jackets, and shoes we just throw the Bundle Me over the hood of the carseat and he stays nice and cozy! The other added bonus is that it keeps him covered when we're out in public and strangers don't come running over to touch him and it keeps all of the germies off of him. No need to use a blanket draped over the carseat that would undoubtedly fall off, the Bundle Me stays permanently attached. And if he gets too hot you just unzip it and fold it down. Love this! And I will get the lighter version for the summer months, they even make a large one to go over the stroller for toddlers.
-
Angelcare Monitor Deluxe
. I could not sleep without this. This is a movement sensor/monitor which detects movement in the crib, most importantly baby's breathing. The monitor will alarm if no movement is detected for 20 seconds. With all of the SIDS scares out there this is 200% worth the money for the peace of mind. We opted for the Deluxe version which has a digital screen and indicates the temperature of the room, also a concern for SIDS. That way we know the temperature and we can watch it "tick" with his breathing and know that he is ok. And let me tell you there is no mistaking when that alarm goes off, it vibrates and screeches on both the parent monitor and the nursery monitor, similar to a fire alarm! So I can sleep peacefully not waking up every 2 minutes to make sure he is still breathing because I know the alarm will go off if he isn't. Another added benefit for the Angelcare is that we now have to put Holden to sleep on his stomach sometimes due to his reflux and gas, this is a big no-no for SIDS, but since we have the monitor I have no worries putting him to sleep on his stomach.
-
Moby Wrap
. This is one of the many options for baby wearing and I love it! My favorite part about the Moby as opposed to other slings is that it distributes the weight on both shoulders so your back isn't killing you after wearing them for an hour or so. The traditional slings are easy to plop them in and out of but you feel sore after a short amount of time. The Moby has a million ways to wrap the baby so you can carry them in a lot of holds and find one that they like. Holden prefers chest to chest type holds over cradle holds. Another plus for the Moby is that it fits any size person so Dad can use it too. With a normal sling you'd have to get 2 sizes- one for mom and one for dad, with the Moby anyone can wear it because it isn't size specific it's just a big long piece of fabric that you wrap around you. For anyone who has a colicky baby this is ESSENTIAL, I would never be able to get anything done around the house without wearing Holden because he refuses to be put down for more than 5 minutes at a time.
- The Boppy!
Well there's no formal explanation needed for the Boppy, it's a breastfeeding pillow that doubles as a great tool for everything for baby. It can help them sit up, you can put them on their stomach for tummy time, it puts them at a perfect angle for bottle feeding, a million uses! Our little guy absolutely lives on his Boppy. He sits on the couch with us all day long propped up in the Boppy, he sleeps on it during the day AND we use it in his crib for him to sleep on at night. (Another SIDS no-no and another reason we love the Angelcare!) With reflux you're supposed to prop baby up at a 45 degree angle for about an hour after eating, so voila the Boppy comes into play. Turns out that Holden dislikes being flat on his back at any point during the day or night and that's when we started having him sleep on it. Honestly, he would rather be on the Boppy than in his swing or bouncer. And another use we found for it is when we decide to co-sleep with him. I get nervous just plopping him in bed with us, I don't want him to get smothered or something, so we just put him on the Boppy in the middle of us and it acts kind of like a Snuggle Nest, he has his own safe area in the bed. It is something that MUST be packed up if we are staying away from home!
- A Pack N Play
. We decided to get a pack n play instead of a bassinette to use for the first couple of months when he will sleep in our room instead of the nursery. The bassinette is only useful for the newborn stage and then it is a waste so instead we opted for a PNP which can be used for a long time after he moves to his own room. And obviously you can travel with it easily. We went with one that had the bassinette height and a changing station so it was just like having a standard bassinette but we will get more use out of it this way. And there is no other thing to travel with, it folds down to the size of a tent and takes 5 minutes to set up, you'd be crazy not to own one!
- Dr. Browns Bottles
. After dealing with tons of gas, reflux, and colic issues I can attest to the Dr. Brown's! There is no superior bottle for these issues. There are many times that we feed Holden and never get him to burp afterwards because the bottles cut down so much on the swallowed air. We had switched at one point to some bottles that were more similar to the breast to help with transitioning between breast and bottle feeding. After about 10 days we went right back to the Dr. Brown's because the gas got so bad from him swallowing too much air. You'll hear complaints that these bottles are hard to clean and have too many parts, let me be the first to assure you they take about 30 seconds longer to clean! It's no big deal AT ALL, and you'll welcome the extra 30 seconds to not have a screaming baby after feedings!
- Mylicon gas drops
. Holden gets Mylicon at nearly every feeding to help with his gas and colic. Now I won't say that they fix the problem 100% but I have no doubt that they do help the issue so we'll keep doing it. Trust me you'll try ANYTHING to stop them from being in pain. So stock up on Mylicon or the generic because the Mylicon is pricey!!
- Carters 3 pack bibs
. These are bibs that come in a pack of 3 and they are quite large. We ended up going to Babies R Us to buy more of them after a couple days of being home. Why? They are the only bibs we've found that don't bleed though like crazy. Our little guy is quite the lazy eater and spits half of his formula all over himself at every feeding. Standard bibs, even the terry cloth ones, leak through and his clothes were sopping wet after every feeding. Every bib we tried leaked until we tried these Carters ones. They seem to have some sort of a layer in them that keeps them from leaking so bad and his clothes actually stay dry now which is good for the laundry basket! No more changing outfits 5 times a day!
- Graco Sweetpeace Soothing Center Swing
. This is the Cadillac of all swings and yes a bit pricey but worth it. This swing is specifically designed for colicky babies and so we figured we might as well have it just in-case we ended up with a colicky baby and SURPRISE we have one so I'm thankful we bought this swing. How does it help with colic: It swings in an arc-like motion which mimics a mom's rocking motion. The seat swings side to side and front to back. It has a canopy to keep light out creating a soothing environment. It has a swaddle blanket built in to the harness to keep baby snug which you can sleep with to put "mom's" scent on it. It has a vibrating seat. It has 6 swing speeds. It has play time music which is upbeat, quiet music including womb sounds, whales, and classical music. AND you can plug your IPOD into it to make your own playlist. It also plugs in and takes batteries which is convenient. But what sold us the most was that the seat actually clicks out of the swing and can be used as a bouncer on the floor AND you can click a Graco carseat into the base! That way when baby falls asleep in the car you just click them into the swing and don't have to wake them up! It's amazing!
- Formula dispenser
. For formula feeding this is essential for the diaper bag. It's a round plastic container that has 3 little dividers that each hold a portion of formula. You just pop the top off and empty the portioned formula into your bottle and it's ready to go. That way we aren't trying to measure and scoop on the go.
- Pacifier clip
. We would go through 100 pacifiers a day without the leash ha! And this is especially important in the car and at night. In the car the pacifier falls down in between his legs and it would be impossible to reach back there to get it while driving if the leash wasn't attached to the side of the carseat. It makes it easier to find! Same with nighttime, if we didn't have the leash attached to his blanket at night we would never find that thing in the dark. We have the Booginhead one which has a metal clip much more durable than the plastic ones.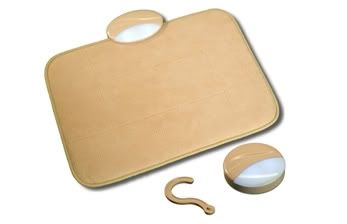 - Step n Shine night light system
. I found this at Walmart and thought it would be convenient, I was right. It's a little pad that goes on the floor and when you step on the pad it lights up and it also lights up a separate nightlight that you can place wherever you'd like. We put the pad at the base of the pack n play and when we'd get up with him in the middle of the night we didn't have to turn any lights on, we could see what we were doing with a nice soft nightlight. And the light goes off on it's own after about 10 minutes. I would actually take the nightlight portion to bed with me so that I could see what I was doing while breastfeeding or pumping. You cant beat it for $20!
http://www.walmart.com/catalog/product.do?product_id=10261773
- Carters Sleepers! We got a million of these for our baby shower and honestly I took a lot of them back thinking that there was no reason to have a million sleepers! Well after he was born we went back to the store and bought a ton of them since we didn't have enough ha. Sleepers are so convenient, you don't have to put on a onesie, pants, AND socks, you just have one article of clothing to put on and take off and one article of clothing to wash. We probably have about 7 in each size now and that way when he pees through his diaper or spits up all over his outfit we have enough and aren't doing laundry every hour.

- Cloud B Sleep Sheep. This is something I purchased recently because Holden seems to much prefer things with "womb" noises over things like rain or ocean sounds. Makes sense considering he just spent the past 10 months listening to my heartbeat and stomach noises and breathing. So I found the Sleep Sheep and he loves it. It also has other sounds like rain, whales, etc. But it has the heartbeat which he really likes. And I really like that it has a timer with 2 different options, 20 minutes and 40 minutes with an adjustable volume knob. It also has a Velcro strap so that you can hang it on the crib and not worry about SIDS from having stuffed animals laying in the crib.

- Soothe N Glow Seahorse. Similar to the Sleep Sheep but it has a nice glow to it like the old Glow-worms of our day. You push it's belly and it sings 5 different songs with ocean sounds and glows, it plays for a total of about 10 minutes and shuts off. We really like this seahorse to travel with but it only plays for 10 minutes which is why the Sleep Sheep is better for bedtime.

- Pampers.
We decided after having him that we despise Huggies and we love Pampers. I assume it depends on the "shape" of your baby but in our case the Huggies just don't fit right. I also love the tabs on the Pampers more than the Huggies, they almost have like a micro-velcro which stays put really well.